Not far from the 4th winter Herring, a dark hooded gull imediatly ringed some bells for the Azorean form of Yellow-legged Gull
Larus michahellis atlantis
. Inicially described by Dwight in 1922 as a new form of Lesser black-backed Gull
Larus fuscus atlantis
, there is still some debate regarding the split from de nominate form
michahellis
, although some genetic studies name "
atlantis"
as an older taxon than the mediterranean michahellis.
Kodac grey scale as been used extensively when describing Gull saddle shades, mostly with birds on hand, but when a good number of individuals from different species are present, the comparison is fairly safe in the field, like on the fotos below ...300mm Dslr photos
The putative "
atlantis
", showed on all occasions a darker shade than all Yellow -legs present, both ssp "
michahellis
" and ssp"
lusitanius
", and was paler than the "
graellsii
" Lesser black-backed Gulls near.
The winter hood is fairly typical for an "atlantis", restricted from the chin upwards, and hindneck almost unstreaked, "lusitanius" can have heavy winter marked heads but not from August or September, and neither such a well marked hood or restricted only to head leaving the throat, breast, necksides plain white. From the nearly 100 Yellow-legs at the place showing some moult on head and body, their newly winter plumage was distinctively different from the putative "atlantis".
P8 fully or almost fully grown, P9 halfway and P10 starting to grow.....black mark or spot on the outer web of P4 is not atypical for the local
"lusitanius
", but present in most "
atlantis
" and always a good trait to look for.
In the following picture another record from last year
Espinho
, North of Portugal on the
1st of August
, and already showing such a marked and restricted hood... for more photos and records in North Iberia take a look to António Gutierrez
blog
, lots of good birds there. Another good
gallery
with excellent photos from September at Azores.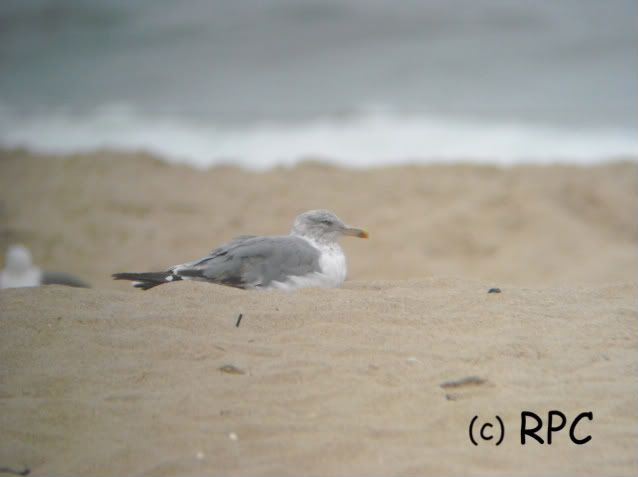 In the past weeks a tropical system crossed the Atlantic North, bringing a good variety of wadders to Western Europe, as Spotted sandpipers, Pectoral sandpipers, Buff-breasted Sandpiper etc. etc.....it would not be unusual that some "atlantis" feeding far in the sea would be caught and pushed to the West-coast of Iberia....plus 3 Herrings reported in 2 weeks (1 at Lagoa de Albufeira, 1 at Quarteira, 1 at Algés), its atypical!!! I guess I must check again that Herring!! It could well be a smith there lurking underneath those tertials.